Filtration, Domestic, House - Hold Filter System
House-Hold Filter System
Benefit of Microcite™ and Microlite™ media.
Microcite™
Microcite™ is a high quality resistant to chemical and granular filter media. It is produced from a unique mineral deposit having crushed form and grains are all different form each other, therefore turbidity can be caught in large quantities. There properties make Microcite™ an ideal filtration media so that saving 80% water during back washing and higher velocity compare to single filter media.
Microlite™
The surface structure of microlite™ features microscopic mineral projection that allow particulate matter to penetrate deeply into the bed. It can easily remove particles, sediment, mud and suspended solid in the water up to < 5micron size.
Activated Carbon (Optional)
Efficiently removes chlorine, lead, asbestos, cysts, Thms, chemical, Repulsive smell, Bad Taste & organic Matters.
Pressure Vessels Ceramic Valve
The pressure Vessels Ceramic valves is composed of two opposite ceramic plates with high hardness (HRA>850) and accurate milipores (pore size <0.0003mm/0.3um). While adjustion the counter angles by rotating the two plates. Will achieve the running, reverse flushing, reverse flushing, front washing effects of the equipped water treatment system. Max Operating  Pressure 8 bar.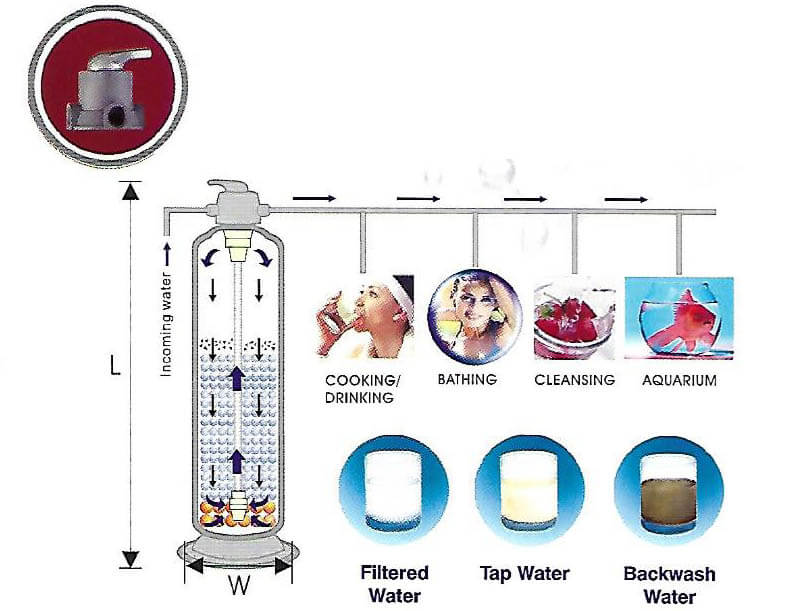 Benefits of Clazzen water filtration
The inner shell are made of ABS or Polyethylene food grade, corrosion and chlorine resistant Material.
The tank design for 10.5 bar or 150psi.
Design operating temperature 50ºc.
Manufacturing warranty on product for 10 years. Prolong the life of drinking water purifier system.
Extend the life of hot water solar system.
The FRP tank will not effect pressure drop to your incoming water supply.
Eliminate water tank maintenance.
Water Filtration System Works